Concert de The Beyond Borders Band
حفل فرقة بيوند بوردرز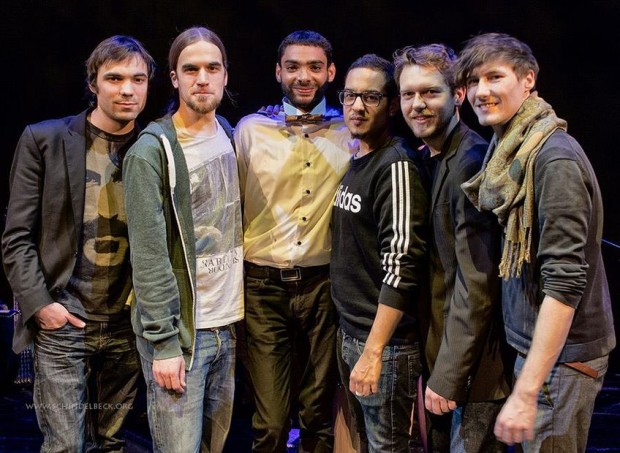 Concert de The Beyond Borders Band
Un concert du groupe de musique de Jazz Oriental The Beyond Borders Band.
Membres:
Fadhel Boubaker - Oud
Niko Seibold - Saxophon
Jakob Deiml - Piano
Jonathan Sell - Bass
Dominik Fürstberger - Drums
Florian Bronk - Percussion
Formé en 2011, BB band est un projet de coopération tuniso-allemand, essentiellement bâti autour de l'œuvre du compositeur tunisien Fadhel Boubaker. Inscrit dans un répertoire de jazz oriental, le groupe lance en 2012 son premier disque intitulé « Un Coup du Destin ». La démarche du band conçoit une œuvre universaliste qui mêle la tradition musicale arabo-andalouse à l'esthétique jazz, avec une empreinte sonore bien propre au band qui, sur scène comme en studio, travaille uniquement sur des compositions originales. En dépit des divergences socioculturelles, les musiciens membres du band ont réussi à donner naissance à un produit original qui non seulement les réunit, mais qui a aussi suscité l'intérêt et l'attention des institutions culturelles aussi bien sur Tunis qu'en Allemagne. Dans l'approche, en addition à un souci d'inter-culturalité, le groupe veille à un partage de son expérience avec la jeunesse musicale tunisienne et allemande, ainsi qu'à un objectif de décentralisation culturelle, notamment du côté tunisien.
Beyond borders. Crossing borders requires courage, creativity and openness for a new form of composition. The six members of the Beyond Borders Band are unite in the dream to overcome borders. They break through cultural boundaries and connect the Arabic and the Western world with the help of their music. Their unique melodies of Arabic and European tradition are accompanied by rhythms on the pulse of time. They create a sensually ambitious, literally unheard-of masterpiece that resolves the borders of Orient and Occident. Every single musician's free evolvement offers the possibility of an unrestricted musical communication and presents to the audience: music without borders.
Vidéo